1
What's the Best Conceal Carry Gun? Top 10 Revealed
You have the right as an American Citizen to keep and bear arms. You have the right to protect yourself and your family. But choosing the best conceal carry is an important decision.
Even though we would like it to be otherwise, the world is a dangerous place. Crime and violence happen all around us. Turn on the news and see for yourself.
The most important things in your life, your family and safety, must be protected. A concealed firearm is the perfect way to ensure you have the protection you need.
Many times, it is the lawful citizen legally carrying a firearm that rescues would-be victims and saves lives. It could be a friend, co-worker, or stranger.
Gone are the days when guys used to settle differences behind the barn with fists. Fights today involve knives and firearms. Others have lost the ability to defend themselves physically due to injuries or old age. A concealed firearm can help you repossess the defense you once had.
Different individuals have different reasons and desires for a concealed firearm. We believe this review will help you understand the variety of firearms available and what may work well for you. There is a perfect firearm for everybody.
Comparison Table
Product FAQ
1. What Is Concealability?
Concealability is the ability to conceal your gun. A gun owner needs to consider concealability based on his or her preferred carry method and how much the way the gun to be hidden.
Concealability in a cowboy boot is different than in a waistband, and both are different from carrying a gun in a purse. Body types can also affect the concealability of a gun.
If keeping the gun concealed is of the utmost concern, body style can have a direct effect on the buyer's choice of gun.
2. What Is Capacity?
A gun's capacity is the amount of ammunition it can hold. A general rule among gun owners is the more capacity the better; it is better to have too many bullets than too few bullets.
However, in the specific arena of conceal carry, small guns are often preferable, and when the gun gets smaller concessions have to made on capacity.
3. What Is Stippling?
Stippling is a gun modification that results in a secure, slip-free grip. It is sometimes used to refer to hobbyists who modify their guns for better stippling, but it can also refer to a gun's manufactured features.
Guns with good stippling often feature dimpled handles with raised dots or ridges for gripping.
4. How Big Should a Conceal Carry Gun Be?
One of the biggest factors to consider when shopping for a conceal carry gun is size, including height, length, and width.
Pistols are generally grouped into four categories: full size, compact, sub-compact, and micro. Full-size pistols are the most common firearm size, but they are not always ideal for conceal carry because they are bigger than most people want to tote around.
Usually a full-size gun is at least five inches tall, at least seven inches long (with a 4-inch barrel), and at least one inch wide. The magazines are usually double stack, meaning they have two rows of bullets in one magazine.
A compact pistol between 4.5 and 5 inches tall with a 1-inch width. The barrel is three to four inches. For some people, the compact pistols can be useful conceal and carry weapons, but for many they are still a bit too big for comfort.
Compact revolvers have even shorter barrels at about three inches or less.
Subcompact pistols are the next smallest class of pistol measuring around six inches long. The barrel is three inches or less, and the height is no more than five inches.
They primarily utilize single stack magazines. Subcompact revolvers are known as snubnose revolvers.
The smallest pistols are micro-pistols, also known as pocket pistols. They are small enough to fit in your pocket. They are used when concealment is essential, but they are usually not pleasant to shoot. They are known to have a lot of recoil.
5. Where Should I Carry My Concealed Weapon?
Carrying your concealed weapon is about more than just comfort. If you use a holster, it is important that your holster is made specifically for your handgun. You do not want your firearm to move around.
The holster should hold the gun securely enough that you can do routine physical activity without having to worry about or adjust the gun.
A good holster should also be able to keep your gun concealed. In some states, the visibility of the gun can lead to brandishing as opposed to concealed carrying. Your clothes and your holster will work together to conceal your weapon, so put great thought into both.
Some holsters to inside the waistband. Shoulder holsters require a jacket to conceal the holster and gun. Inside the pants, holsters can be worn almost anywhere along the waistline.
Outside-the-pants holsters, paddle holsters, and belt holsters are easier to conceal with a lot of clothes on, but they are harder to conceal when you are not wearing a lot of clothes.
Ankle holsters are effective for concealing, though they hinder your ability to draw the weapon quickly.
Aside from holsters, some gun owners carry in purses, fanny packs, and briefcases. These can be easy and useful but remember a criminal may go for your purse or briefcase.
How We Reviewed
We reviewed a variety of the best conceal carry guns based on their features, pros and cons, availability, and price. We also took a look at factors such as the gun's portability, ease of use, weight, and stopping power.
We know there are a variety of guns that serve different needs, and there is an equally large number of gun buyers with different preferences and needs. Understanding the differences between common options can help you get the most out of the following review.
Guns come in a variety of styles and options, and best conceal carry for one individual may be different than for another person. Guns can accomplish many purposes, including self-defense, but the gun you use to defend your home and family may be very different than the gun you choose to keep on your person.
The size and body type of the individual lends itself to personal gun choices along with countless other factors. It can be beneficial to choose a go-to gun for conceal carry in order to familiar and comfortable with it.
There are some standard options a person needs to understand if he or she is going to make the best possible choice.
Revolvers
While pistols dominate the world of concealed carries today, revolvers are one of the most traditional guns. They feature a barrel-like cylinder that revolves in order to line individual bullets with the barrel.
Single-action revolvers are old-fashion revolvers that require a manual cock with each shot. They can still be purchased today, but they are more nostalgic than practical.
Because of the extra time and effort between shots, they are not a legitimate choice among the best conceal carry weapons.
Modern revolvers are double-action guns. When you shoot a double-action revolver, the trigger cocks and releases the hammer in the same pull.
Double-action revolvers are much easier to use than single-action, and a more common choice for conceal carry needs.
Revolver Perks
Many people choose a revolver as the best conceal carry option because of its ease of use and simplicity. The cylinder is easy to open for clear vision of the individual cartridge chambers.
When you insert cartridges in the chamber and close the barrel, you are ready to fire. Unloading it merely requires you to open the cylinder, tip the barrel upward and press the extractor in the front.
Loading and unloading a revolver takes no unusual strength or strategy. The simplicity carries over to shooting as well. In the event of a cartridge misfunction, a second squeeze of the trigger simply rotates the cylinder to align the next cartridge.
Another perk of the revolver is its individual bullet chambers. Because each cartridge has its own chamber, the shape of the ammunition can vary more than other weapons.
Because the cartridges are sized for width, most revolvers can utilize smaller-caliber cartridges with the same diameter. Common conceal carry revolvers use .357 Mag. and .38 Special chambers. The Magnum is a longer bullet and more powerful, but both are compatible because they have the same diameter.
The golden rule in this situation is that shorter cartridges can be loaded into guns with longer chambers, but longer cartridges cannot be loaded into guns intended for shorter cartridges.
Other perks include the revolver's resistance to jamming and the ability to fire a revolver through clothing. They are easier to clean than some other options and do not need to be disassembled.
When the barrel of a revolver is pressed directly against an attacker, it is not hindered by the pressure.
Revolver Grips
Revolvers offer a wide variety of grip choices. Most revolver grips cover a metal frame, and you can choose different grips to fit around the metal frame of your gun.
Small grips can be easier to conceal, but large grips can be easier to access and shoot. Grips can also be customized for your hand size and personal preferences.
Revolver Disadvantages
A primary disadvantage to revolvers is the limited capacity. The most common barrels are six-shooters, and some revolvers that are smaller and good for conceal carry only have five rounds.
You can purchase eight-shooters, but they are usually too large to serve as the best conceal carry weapons.
When you run out of ammunition, it can be time-consuming to reload a revolver. You have to eject the spent cartridges, reload new ammunition in each cylinder, and close the barrel again.
While a speed loader can make the process faster, it is still an overall disadvantage. Another disadvantage of the revolver's cylinder is the width. Some barrels are wide enough to make concealing difficult.
While the lack of a safety on double-action revolvers, it can be a perk to shoot without worrying about an additional step, but for some the lack of a safety option is a danger.
Pistols
Modern pistols are usually semi-automatic weapons with many different features. A magazine is housed inside the gun's grip. The magazine holds cartridges, and the capacity of the magazine varies depending on its size and other factors.
A pistol is operated by a slide that engages the gun. Within the slide is a single barrel that holds one bullet at a time.
The shooter loads his rounds into the magazine and inserts the magazine into the pistol until it clicks into place. By pulling back on the slide, the first round is chambered.
The gun is now ready to fire. When the first round is fired, the first cartridge is expelled, and the second cartridge is automatically chambered. You can fire repeatedly until the magazine is empty.
Pistol Perks
The first and primary perk of pistols is its ability to fire repeatedly. It is not uncommon for a pistol to accommodate 17 rounds. It is also easy to keep extra, fully loaded magazines nearby.
Pistols are also flat and sleek, making them easier to conceal than many revolvers. The slide on a pistol is also more resistant to recoil than a revolver, and many have a safety mechanism.
This is beneficial due to another pistol perk, a light trigger squeeze. The squeeze is light, and the trigger pull is short. Pistols also have a short reset, meaning the trigger does not have to return all the way forward before it can be fired again.
Firepower is the recurring theme that differentiates the pistol from the revolver. Pistols can shoot faster and more often than revolvers.
They also have safety perks, such as hammer drop safety. Many pistols have internal mechanisms to prevent the gun from firing if it is accidentally dropped.
Pistol Grips
While you can buy pistol grip accessories and replacements, the variety of grips is less than revolvers. The grip on a pistol is important not only for shooting but also for manipulating the slide.
For shooters with less strength or hand grip in general, it is important to have a firm grasp of the weapon when pulling the slide.
Pistol Disadvantages
Unlike the revolver that excelled in simplicity and ease of use, beginners often find pistols difficult to master. There is no uniformity among pistols, and one pistol can vary greatly from another.
Magazine releases, safeties, and other functions can be activated differently and found in different locations on different guns. Disassembly and cleaning also vary widely between guns.
Pistols offer less ability to interchange ammunition, and they are more susceptible to jams. Some pistols even lend themselves to accidentally hitting the magazine release and being left with only one cartridge in the chamber and no magazine in the handle.
Caliber
A gun's caliber is the diameter of the barrel. The bullet size matches the barrel. For instance, a gun is labeled as "9×19" then the diameter of the bullets used in the gun is 9mm and the length of the bullets is 19mm.
However, caliber is not always measured in metric units. The same caliber could be measured as .223 inch or 5.56 mm.
Another common mistake is based on relative measurements and what seems like an insignificant difference. For instance, how much difference could there be between 9 mm and 10 mm? Could a 9 mm bullet not travel through a 10 mm barrel?
But the truth is guns are precision instruments. Every millimeter counts. Even fractions of a millimeter count.
Pistol Caliber
Some pistol calibers are common, and others have recurring spots on our list. The 9 mm is very common, called a 9x19mm Luger or 9x19mm Parabellum.
The 9 mm has always been used by a lot of military outfits, and recently the FBI switched all agents to 9mm firearms.
It also has benefits to newer gun users, including minimal kickback. It is powerful enough to stop any attacker.
Overall Price Range
The guns we reviewed ranged in price from under $400 to around $750. A buyer's budget can be affected by a number of items, including specific needs or preferences he or she has in a gun. Some may prefer a specific type of steel or simply be averse to polymers. Others may want a certain size or grip style.
Ultimately the value of the gun is determined by how desirable it is, and what is desirable for you may be different than what another person desires.
As you peruse our list of the best conceal carry guns, remember that you are looking for a gun you can carry every day, if need be. You should desire a gun that you are comfortable using and, more importantly, that you are confident using. Do not let somebody talk you into something you don't want, because you will likely spend too much money on something you are not comfortable using.
Finally, remember that a conceal carry is not a showpiece. Your gun is not to impress others; it is meant to protect yourself. So as you investigate our list of the best conceal carry guns, find the ones that you could carry every day with confidence to establish a range of what you will likely need to invest.
What We Reviewed
Smith & Wesson® M&P Shield® M2.0™
GLOCK 26
SIG Sauer® P365 Pistol
SMITH & WESSON M&P9C
GLOCK – G43 HANDGUN
GLOCK – G19X G5
SPRINGFIELD ARMORY – XD-S
The Sig Sauer P320 Compact
FN FNX-45
Heckler & Koch VP9S
1
Smith & Wesson® M&P Shield® M2.0™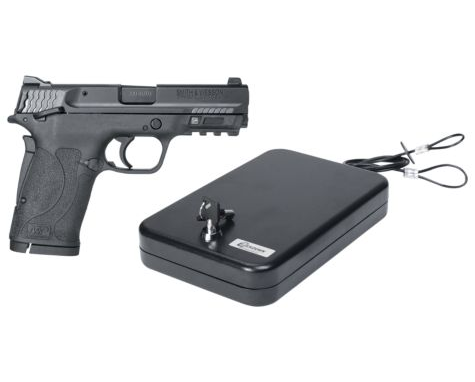 Features
Smith & Wesson makes the M&P Shield M2.0 with two barrel lengths to choose from, including 4-inch and 3.6-inch versions. The shorter barrel offers more concealability, but the longer barrel offers more accuracy.
The 4-inch barrel also comes with less muzzle flip. The gun is made of a durable polymer frame with black, corrosion-resistant coating on stainless steel sides and barrel.
Portability
Ease of Use
Weight
Stopping Power
The Smith & Wesson® M&P Shield® M2.0™ is slim and easily concealed for portability. Made of a lightweight polymer and stainless steel, it boasts a one-inch profile.
These Smith & Wesson pistols excel in ergonomics. The gun's stippling is appreciated by most users for its tackiness reliable grip.
However, there is a lack of texturing on the forward frame for the support-hand thumb. It consistently receives high marks for its trigger and shooting accuracy.
The Smith & Wesson® M&P Shield® M2.0™ at just over 18 ounces with an empty magazine.
Chambered in 9mm, the Smith & Wesson® M&P Shield® M2.0™ offers proven stopping power.
Pros
The quality is outstanding.
Multiple barrel lengths.
Good stippling.
Comfortable ergonomics.
Cons
Lack of texturing on the forward frame for the support-hand thumb.
2
Glock 26
Features
The Glock 26 is a 9mm pistol with 3.43-inch barrel a 10+1 capacity. The Glock 26 has been a favorite among concealed carries for several years, the upgrades to the fifth generation model are bound to make it a favorite for years to come.
Portability
Ease of Use
Weight
Stopping Power
The Glock 26 is slightly thicker than its relative, the Glock 43X, but it makes up for it with a shorter height. It is one of the shortest 9mm on the market, making it very portable.
The Glock 26 updates to the Gen 5 model improve its ease of use. The trigger is friendlier, and the barrel is more accurate. It has a 10+1 capacity.
The Glock 26 Gen 5 tips the scale at just over 26 ounces with a loaded magazine.
Chambered in 9mm, the Glock 26 offers more than enough stopping power.
Pros
10+1 capacity.
Upgrades from Glock 26 Gen 4.
Short 9 mm is concealable.
Cons
Thicker than some similar guns.
3
SIG Sauer® P365 Pistol
Features
The SIG Sauer P365 pistol features an abundance of capacity, concealability and versatility in a conceal carry weapon. It was selected by the NRA's Shooting Illustrated Magazine as their Golden Bullseye winner for 2019 Handgun of the Year.
This 9mm Luger has a micro-compact frame made of stainless steel with a polymer grip. a 10-round flush fit magazine, and a 10-round extended magazine.
Portability
Ease of Use
Weight
Stopping Power
The SIG P365 is truly a tiny gun. It's micro-compact carry size makes it nearly effortless to take with you. Micro-compact everyday carry size with unprecedented 10+1 full-size capacity.
The strike-fired pistol has a crisp trigger and comfortable ergonomics. Despite its small size, the gun did not have to compromise on a subpar grip to reduce the overall size.
The gun remains functional and comfortable with a perfect palm swell that fits the hand. The undercut trigger guard allows the shooter a full grip that is functional and comfortable. All the controls are easy to reach.
This micro-weapon weighs 17.8 ounces unloaded, and fully loaded the pistol weighs 23.6 ounces.
Although it is lightweight and easy to conceal, the P365 is chambered in 9mm and is rated for +P ammunition to stop attackers cold.
Pros
Tiny but without compromise.
10-round magazine and other magazine options.
Positive feedback on the trigger and handle.
Cons
Double-feeds have been reported where the fired case fails to be fully extracted.
4
SMITH & WESSON M&P9C
Features
The Smith & Wesson M&P9C comes with two magazines, one flush fitting and another with a finger extension. The magazines hold 12 rounds.
There is no safety on the 9C unless you special order that option, so those who want as few steps as possible will see that as a perk.The 9mm gun has a 3.5-inch barrel length.
Portability
Ease of Use
Weight
Stopping Power
The weapon features a stainless-steel slide and barrel along with a polymer frame. This weapon is smaller than the Glock 19 but maintains a double stacked design.
Many still prefer single stacked guns for conceal carry, so this may be too fat for some buyers.
The 9C's safety-action trigger is flat. The pull is heavier than the Proust, and it has received a number of negative reviews.
The empty weight of the gun is 21.7 ounces.
The 9mm gun and 3.5-inch barrel will stop any attacker.
Pros
Cons
The shorter barrel leads to recoil.
5
GLOCK – G43 HANDGUN
Features
The Glock – G43 handgun combines a lightweight frame with reliability to offer a true fighting caliber conceal carry.
This striker-fired, polymer-frame semi-auto is as small as they come yet offers full 9mm power. It is small enough to carry in most reasonable fashions but large enough that it fits comfortably in the hands of most shooters.
Portability
Ease of Use
Weight
Stopping Power
The small, thin nature of the gun can be carried in a pants pocket, yet it is also perfectly fitted for a belt holster. Pocket carries are not the most comfortable or safe.
It would be hard to find a more portable gun on our list.
Users with a wide variety of hand sizes and strengths found the gun comfortable and fitting. There are no finger grooves.Female shooters are consistently able to rack the slide.
The gun weighs 17.95 ounces unloaded.
The reputation of Glock weapons are built on the power of 9mm pistols. It has more than enough power to incapacitate its victim.
Pros
Small but still powerful.
Fits most shooter's hands.
Reliable and portable.
Cons
Limited 6+1 capacity.
The trigger pull is heavier than other Glocks.
6
GLOCK – G19X G5
Features
This Glock features a "crossover" design as the result of a military contract. It is an all-purpose gun that combine a full-size frame with a mid-size slide.
It sports a Marksman Barrel that is hammer-forged with a hexagonal rifling and improved crown from previous Glock designs.The gun is just over four inches long and 5.47 inches in height. It includes a set of magazines with a 17+2 round extension.
Portability
Ease of Use
Weight
Stopping Power
This gun is meant to be carried in a duty holster, but common users want to have it with them as a conceal carry weapon. The frame is a bit bulky to carry with total concealment, and a unique grip angle complicates the matter.
If you use the 17+2 extension magazine, it is nearly hopeless to fully conceal the G19X.
The G19X features an ambidextrous slide stop lever and reversible magazine to be South Paw friendly. It is also a very durable gun.
In countless test firings, the gun rarely jams or suffers malfunctions.
This gun weighs 22 ounces with no magazine inserted. The 17-round magazine pushes the weight approaches two pounds.
The G19X has a military background, and while the Army did not ultimately select the G19X for the original offer, it speaks volumes to its stopping power.
Pros
Marksman Barrell.
Improved Crown.
Cons
Seven-pound trigger press may be difficult for some shooters.
7
SPRINGFIELD ARMORY – XD-S
Features
The Springfield Armory XD-S is a thin, single-stack subcompact pistol. It is an extremely small gun that maintains the 9mm chambering and can be carried in almost any situation.
The XD-S is one of the best guns in the subcompact category. It measures 6.3 inches and stands 4.4 inches tall with a 3.3-inch barrel. It offers black or stainless-steel slides.
Portability
Ease of Use
Weight
Stopping Power
The grip is short, even for a subcompact, helping the gun's concealability. A 9+1 magazine is compatible, but you will lose your full concealability.
The ergonomics allow for a good grip and draw when being carried on your person. It is just a bit too big to carry as a pocket pistol for most folks.
Any time you give up the bulk of a double-stack weapon, you will trade some comfort and control for portability. By single-stack standards, the XD-S is very comfortable and a full grip for many hands. It also offers good control for a subcompact gun.
In field tests, the accuracy is consistent and the recoil is minimal.
With an empty magazine, the gun weighs in at 23 ounces.
The beauty of this subcompact, single-barrel design is that is highly portable but maintains its 9mm chambering. It has enough stopping power to handle almost any situation.
Pros
Iron sights and minimal recoil.
Accurate and easy to shoot.
7+1 capacity for a single-stack gun.
Cons
Doesn't handle triple Homady Critical Duty polymer-tipped ammunition well.
8
The Sig Sauer P320 Compact
Features
The P320 Compact pistol is a polymer weapon with a pleasing appearance. The ergonomics of this gun fit a wide variety of hands by offering three different grip sizes. You can choose the one that is best for your hands.
Portability
Ease of Use
Weight
Stopping Power
The overall height of the gun, including the inserted magazine, is 5.27 inches. The length is 7.21 inches.
The gun is readily portable, though full concealment would be difficult on many body types.
This gun is a comfortable weapon to grip. The choice of grips will change the overall size of the palm swells to incorporate a natural feel.
The gun repeatedly tests accurate and consistent, and it causes very few jams and malfunctions.
With the magazine unloaded, the gun weighs about 25.5 ounces. Loaded with a 15+1 magazine the gun weights just under 32-and-a-half ounces.
A 9mm weapon has sufficient penetration power to stop an attacker and also better control than some larger weapons that can help promote accurate shooting.
Pros
Pleasing aesthetics.
Multiple grip sizes.
Cons
Some buyers avoid polymer components.
9
FN FNX-45
Features
With the power of a full-size pistol in a slim body, this lightweight weapon is about the size of your hand and holds 15+1 rounds of 45. It is reliable and durable.
It has been used for law enforcement applications and is equally suitable for personal defense. With a stainless-steel barrel and slide, it is a top contender on the list of best conceal carry weapons.
Portability
Ease of Use
Weight
Stopping Power
By conceal carry standards, this is a big gun. It holds 15+1 in 45, and it favors shooters with big hands.
If you do not like big guns or are specifically shopping for a small, concealable gun, this may not be what you're looking for. however, if you want to tote a medium-sized beast, it could be right up your alley.
A slide stop lever and a magazine release make allow the shooter to use either hand from any firing position. The gun stays balanced throughout the shot with no vertical stringing because of weight shift.
Some users report a long process getting used to the trigger.
The unloaded weight of the FNX 45 is two pounds, and the loaded weight is about 2 ¾ pounds.
Stopping power is no problem for this semiautomatic 45 beast.
Pros
Checkered polymer grip.
Loaded-chamber indicator on the external extractor.
Cons
Some users report difficulty using the trigger.
10
Heckler & Koch VP9S
Features
Heckler & Koch offer this VP9S pistol with a polymer frame. It is striker fired from a 9 mm chamber.
Portability
Ease of Use
Weight
Stopping Power
The most positive reviews are from users who belt carry the VP9S. Some are able to carry the gun in a fully concealed manner, but for many users is too long.
The gun has a 4-inch barrel and total length of 7.32 inches.
The VP9S is consistently praised for its trigger pull. The trigger is light with a short reset to allow for fast, repeated firing.
A positive reset still exists. The reset is still obvious, but now it is slightly less energetic. It no longer pushes my finger forward of the reset point and I can take a follow-up shot without the need for additional take up.
All the controls, including the magazine and slide releases, are ambidextrous.
With an unloaded magazine, the gun weighs 25.56 ounces.
This 9 mm weapon balances power with performance. it can stop any deadly threat, and the shooter can easily deliver multiple rounds.
Pros
Good balance of power and performance.
Light trigger with short reset.
Cons
The size is in a gray area where some may conceal it and others not.
The Verdict on the Best Conceal Carry
Choosing the best conceal carry weapon is difficult task because there as so many variables among both guns and shooters. Guns come in a variety of shapes and sizes, and people do too.
A gun that could be concealed on one individual may not be concealable on another. A gun that is light enough for one shooter may not be light enough for another.
We wanted to give our nod of approval to a weapon that efficient and usable for a wide variety of buyers, and one that was simple enough for pros and newbies alike. We opted for the Glock – G43.
Glock G-43
The Glock G-43 gets our nod for the best conceal carry. This compact 9 mm is designed with conceal carry in mind. It combines a single-stack magazine that gives it a thin build alongside stopping power on par with larger weapons.
Talon Grips for Glock 43, Black
100% made in the USA
Used by many of the top competitive shooters.
Custom designed and manufactured for this specific firearm for an OEM quality fit and finish
Glock has a reputation for that is esteemed by military and the public alike. They make some of the best combat pistols for all purposes, including some that have landed police and military contracts. The Glock G-43 is on par with the best of them all.
The semiautomatic gun has a polymer frame manufactured in Austria and imported to it Georgia location in the United States. Just under 18 ounces with unloaded magazine, the gun six-and-a-quarter inches long and four-and-a-quarter inches tall.
It is about an inch wide with a narrow steel slide. It sports the familiar square-shaped black finish common among Glocks. It is a square-nose slide and a 3.39-inch barrel with hexagonal rifling.
Using the Glock–G43
Test the Glock–G43 and you'll find it to be a very well balanced. It is accurate and controllable for a small gun, and the grip is comfortable to hold.
The magazines lock easily into place, and a variety of ammunition, from low-end to high-end, can be used without any malfunctions. Bullets weighing less than 115 grs. had the least recoil.
The accuracy of the small gun is reassuring for concealed carriers. It is as accurate as many larger guns. This gun is a semi-automatic with a narrow 9 mm barrel that lives up to Glock's storied tradition. In a search for the best conceal carry weapon, it does not disappoint.
Featured Image: via Amazon
Last update on 2021-01-27 / Affiliate links / Images from Amazon Product Advertising API